Our Story
The Emerald Bluffs Legacy
Emerald Bluffs is the result of one man's vision to create a unique living environment where superb architecture and sustainable development go hand-in-hand with the ongoing protection and fostering of the natural landscape that surrounds.
I am very proud to present to you this truly unique style of development in an outstanding natural landscape.
Emerald Bluffs is the result of my passion for the local environment into which I moved from Germany more than 20 years ago. A desire to protect this landscape and enhance the natural biodiversity led me to purchasing the land in 2007.
Previously consented for fifteen house sites, I wanted to transform this land in a way that provided an incomparable living opportunity for homeowners supported by active restoration of the environment.
The number of house sites was reduced to seven to maximise the privacy and seclusion of each, while minimising the impact on the environment. A dedicated team has been working on this ecological restoration programme since 2007, resulting in the removal of pest species, the reintroduction of rare and endangered plant species with more than 120,000 natives planted to date, and a significant increase in birdlife.
Emerald Bluffs is a not-for-profit project that supports local environmental projects. This project is very close to my heart and it is my hope that this model may be an example of how areas of natural beauty can be enhanced and protected through mindful land use.
Thank you for your interest in Emerald Bluffs. I look forward to the opportunity to show you around this spectacular part of the world.
— John May

TIMELINE
2007
Purchase of land
The comprehensive and unique development proposal finalised
Proposal approved and endorsed by the Environment Court
Commencement of restoration
Establishment of onsite nursery
2008
Wilding pines removal
Restoration of sand quarries
Creation of wetland
2010
Installation of all services and roads
Commissioning of base building with all back-up services
2011
Main phase of revegetation planting completed
2012
C3 House wins World Architecture Festival award in Singapore
2013
Completion of first owner's home
OUR VALUES
Firm values form the foundation of our project.
Emerald Bluffs was built on a set of strong values that form the foundation of everything we do.
We strive to provide our residents with perfection, including state-of-the-art infrastructure, amenities and services. We are future-thinking, always searching for the leading solutions in luxury and eco-conscious living.
Whether Wanaka local or visitor, we ensure our actions respect all they affect and encourage a respect of the environment in all we meet.
We love a good challenge and never shy away from what needs to be done to uphold these values. We have a bold, clear vision and we stand by it with pride. We now invite you to stand along with us.
Longview Environmental Trust
The Longview Environmental Trust was established with the future of Emerald Bluffs' natural beauty in mind, as we work to reintroduce the magnificent native flora and fauna of our past and protect it for years to come.
This is achieved through the introduction of wetlands, the replanting of a range of wonderful New Zealand natives and the protection of the fauna that follows. A significant part of this is education, as we instil a knowledge and passion for our unique ecosystem with others, and the ways we can work together to nurture and nourish it.
The Trust also promotes the sustainable management of natural and physical resources to enhance and maintain a quality of life that respects the environment we are lucky enough to call home – for us and for our future generations.
Outside of the flourishing grounds of Emerald Bluffs, we work to develop and maintain parks and public land for the benefit of all who visit our stunning surroundings.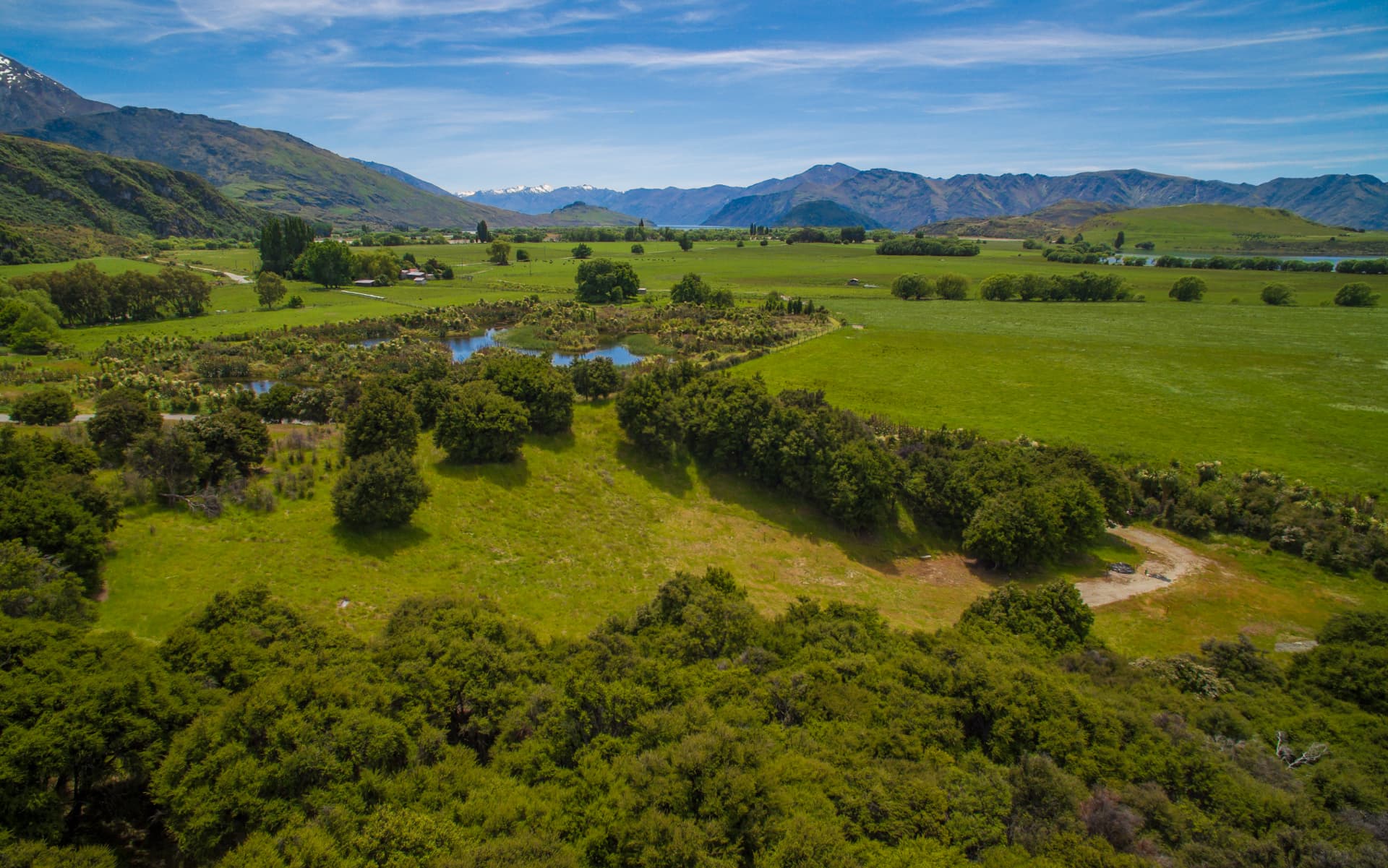 Our Nursery – Matukituki Natives
Here at Emerald Bluffs, we are so passionate about the striking and fascinating native flora of New Zealand, we have created our very own onsite nursery.
As well as applying our experience and knowledge to our own restoration project, we assist with the planning, implementation and maintenance of ecological native restoration and landscaping projects of all sizes, from home gardens to grander developments.
Living in the unique climate of the Otago area, our team specialises in environmentally sourcing and cultivating native species that are known for their hardiness and suitability to our local growing conditions of hot dry summers and cold winters. Plant material is sourced from our region and beyond, as we search for the most robust and resilient natives to withstand our annual extremes.
Our nursery can supply in bulk or contract grow for restoration projects, riparian strips and landscaping projects. We are also skilled in the installation of irrigation systems and the implementation, monitoring and maintenance of pest control and weed eradication programmes to protect your project for years to come.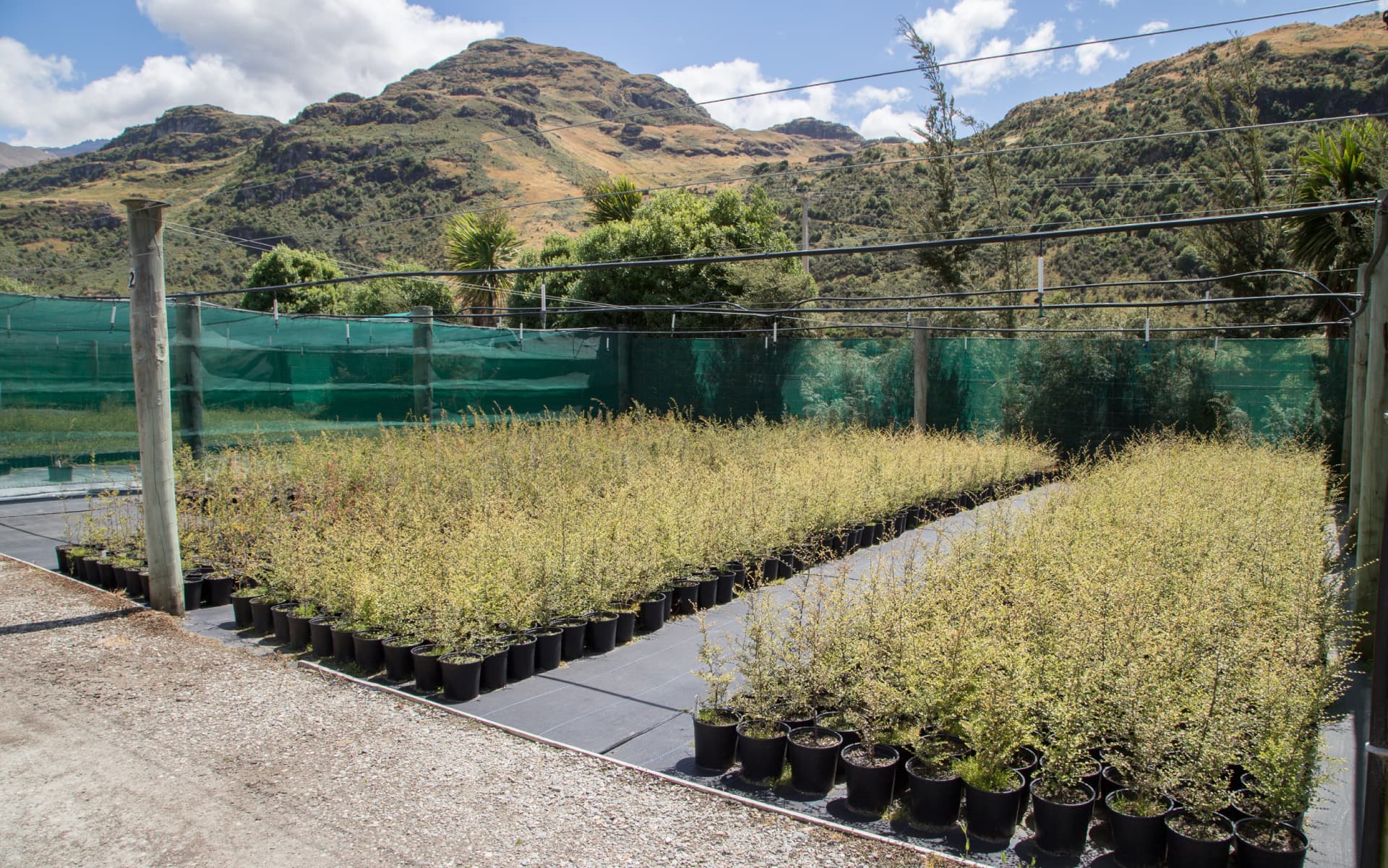 Biodiversity at Emerald Bluffs
Watch the native flora and fauna flourish.
A comprehensive restoration plan dedicated to restoring and enhancing the native biodiversity at Emerald Bluffs has been underway since 2007.
More than 120,000 native plants from over 60 different species have been planted to date. All seeds are sourced from the local area, then propagated and grown on site in our nursery. Species that are rare to the area or endangered are being carefully added to the indigenous forest mix. Totara, Matai, Southern Rata, Kahikatea, Celery Pines, Tree Daisies and more have all been planted on site to increase biodiversity and promote regeneration.
The creation of a wetland area and restoration of a former waterway provide a natural habitat for native wildlife. A walkway has recently been completed, leading you along the eastern boundary, around the wetland area and down to Lake Wanaka.
The pest control strategy targets both animals and weed pests across the entire site to protect native flora and fauna, with pest control work extended to the adjoining Glendhu Bluffs Conservation Reserve.
The restoration and protection of this natural habitat has encouraged increased local birdlife. The New Zealand falcon, emblem of Emerald Bluffs and one of New Zealand's most spectacular birds, now makes its home at Emerald Bluffs.